Getting interactive for 2023. Yes, Christmas and the New Year are times when all of us may have eaten too much during the festivities. Our cycling clothing is thankfully made of Lycra and so it stretches, but we still need to get out and to get fit again. If, like me, you love travelling to ride, then this early time of the year is perfect for indoor interactive cycling, on Zwift, Trainer Road, or other apps like the Elite My E-Training app, where you can actually ride the roads that you'll be travelling to –in the comfort of your own home. The Elite indoor interactive cycling trainers are an ideal way to get ready for spring and summer riding and cycling holidays. 
Interactive Indoor Cycling
This month I'm writing about the interactivity available to you when you ride with Elite, using their Nero Rollers and the Direto XR interactive trainer. Both are top of the range offerings from Elite and are compatible with all of the top trainer apps and programmes: Trainer Road, RGT, Zwift etc.
My favourite of the 2 trainers mentioned is the Elite Direto XR, their top of the range trainer, because for me it replicates perfectly the real feeling that you get when out on the road, with a super smooth interactivity and awesome slope simulation. You can feel the pleasure of pedalling from the first 5 mins since you start the workout. It's enjoyable and practical to do your regular training sessions on the Elite Direto XR. Sometimes, when I'm doing a recovery spin, I put on a serial to watch while I do my workout – Yes, it's kind of relaxing too!

Mixed Training with Interactive Rollers
Cycling rollers are great in their most basic form, as they work the core muscles extremely well and help you to improve your pedal action, making your power transfer and energy more effective. Using the Elite Nero interactive rollers, I'm able to stay dry and warm indoors and to set myself goals and training targets, whilst making the most of an all-body workout on the bike. The way in which it links in with the various apps is superb – from the videos on My E-Training Real Video, to RGT and Zwift, it's really great to get that bike movement that rollers give you, together with the full interactivity and climbing realism too. We have lots of hills here in Sibiu 
It's also easy to mount and setup, and to store too. Just place it on the surface you want to do the workout, lock it and 'hocus pocus', you are on your bike ready to start the workout on the rollers. It's pretty silent, and this I know is important you see, because I live in an apartment and I don't want to bother my neighbours if I pedal on a late session after work. Elite have designed and engineered the Nero rollers to be an ideal space saving and user-friendly interactive trainer.
As mentioned, the Nero rollers are compatible with other trainer apps, but the My Elite Training app also gives you access to the Elite Real Video, where you can ride rollers to an interactive film of climbs and rides around the world, making it a great training experience, with the video in front as you feel the burn as the terrain changes – how cool is that.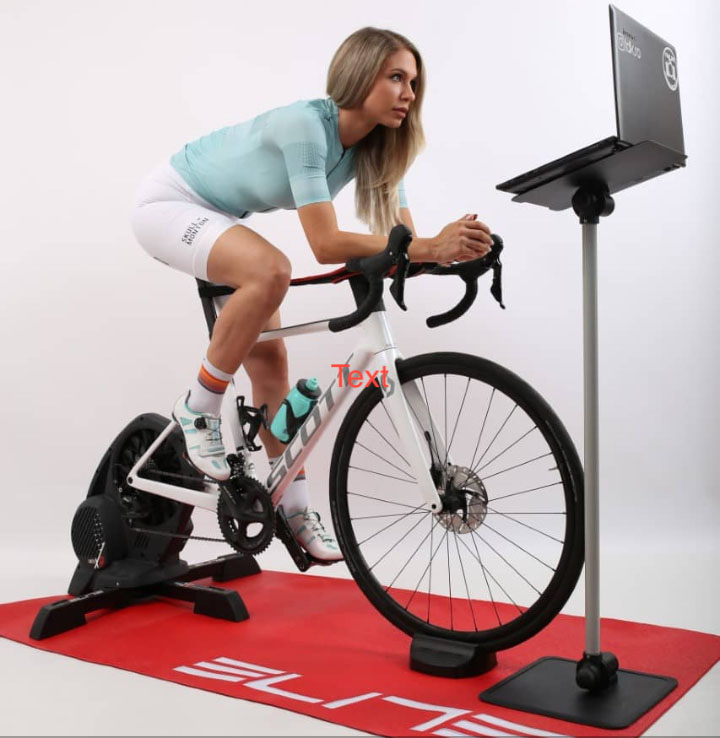 Elite Direto XR Used in Combination Training
Moving on to the Elite Direto XR interactive trainer, it is a world leading indoor trainer, used by many of the world's top teams. For myself, it's very useful for improving and maintain my fitness level. Power reading accuracy is important as an athlete, and the accuracy of the Elite Direto XR is spot on. I can see my efforts and work my training within set boundaries. It allows me to test the efficiency of my pedal action and to refine it.   Being a skier too, having used the Direto a lot recently, it also helped to maintain fitness ready for skiing – always a good thing in my mind ;). So, it's easy to setup, and is soon ready to train – viola. Also, like the Nero rollers, it's just as compatible with Zwift and the other major apps. Winter here means that roads are filled with snow or icy, and the 2 Elite interactive trainers, the Nero and the Direto XR work to support each other and to give me a balanced and full training programme. So yes, using both the Elite trainer and rollers have helped me in times in need, where it was raining or too cold outside or simply too dark to ride.
For me, the rollers are the quicker training option, as I've been using it for shorter but intense trainings. I love the intervals on the Direto XR too, and also for the recovery ride after the rollers, using them as I say in unison and as complimentary trainers.


Elite Direto XR Used in Combination Training
The great thing is that Elite will help you to get ready for spring freedom sunshine, and cycling outside again, and also for those holiday goals. There's no better indoor training options than the Nero rollers and the Direto XR working together – trust me, I've really benefited over winter.
For 2023, let's try our best to make the most of life – and let's live every day, hopefully in the hills and on 2 wheels – travelling to great places, with Bike Box Alan!